Welcome to CAP's website!
The Community Assistance Program (CAP) is a private non-profit food pantry located in Moreno Valley, CA. We actively work to improve the quality of life for Moreno Valley residents who are in need of emergency food, clothing, and utlity assistance. Since we opened in January of 1992, we have served over 55,000 local families with food and clothing and over 1200 families with utility payments, bus vouchers, and household items. Our motto is 'People Helping People' and we couldn't do this without our amazing volunteers. We at CAP are grateful for all the support of the Moreno Valley community with their time, resources, and talent.
We are open on Tuesdays and Thursdays from 10am to 1pm. New clients are always welcome. Please call us at (951) 485-7792 during regular business hours for more information.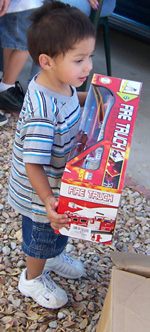 The E-newsletter
has arrived!

It details all the goings-on at CAP each quarter, including success stories, ways to help, and numbers served.
Subscribe
Unsubscribe
Change Email